[[Click to show image]]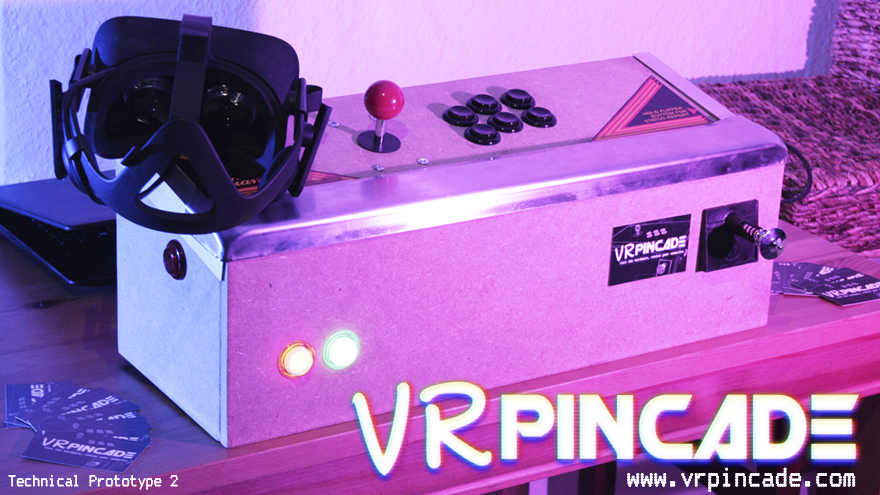 VR-PinCade is an imemrsive input device for games which simulate pinball or arcade machines. It is designed to deliver a very realistic experience and let the player believe, that he's actually touching the simulated table. Unlike other pinball and arcade controllers, it not only offers a realistic shape and input methods (buttons, joysticks, plunger, nudge detection etc.) but combines multiple haptic feedback concepts to deliver a unique and life like experience, which is not comparable to the feedback from simple rumble motors.
VR-PinCade works via Plug-And-Play with any existing and upcoming Pinball and Arcade game, that supports gamepads (e.g. Pinball Arcade, Pinball FX2, New Retro Arcade, all Emulators etc.). VR-PinCades Software is planned to be open source, so the controller can easily be customized and extended.
The feedback hardware works without changes on the game itself.
While VR-PinCade is designed to be used with a VR-Headset, its core technology, can be used for every type of immersive controller (e.g. Virtual Pinball Table)
Development for VR PinCade started in 2015 with an pinball only prototype that recieved very positive feedback at several meetups around europe. It has now become the final project of my studies.
[[Click to show image]]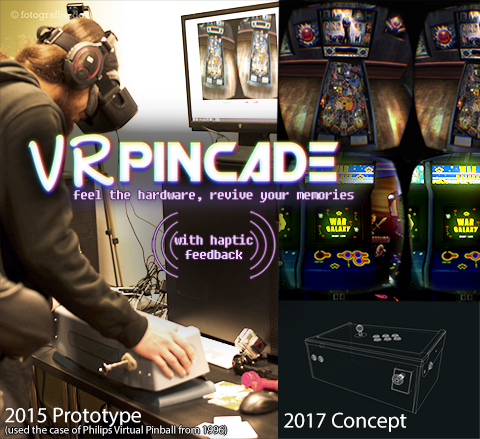 While i'd love to make it a polished consumer product eventually, I have to start smaller. So the fist fist step will be a VR-PinCade DIY Kit.
The kit how it is currently planned, will arrive at your door with everything you need to assemble it!
That includes:

A

laser cut VR-PinCade Case

that already comes with holes for all buttons etc

(no cutting, drilling, nails or screws required, just some glue)

An industrially manufactured

circuit board

that comes with all electronics you need to build a VR-PinCade Controller.


That includes:

Pre-programmed Micro controllers
Circuits for reading values from digital and analogue sources (buttons etc.)
Accelerometer (to detect nudging / pushing)
Everything needed to drive the feedback hardware (and that's actually a lot of pieces)



Mechanics to read draw distance from an original pinball plunger

The haptic feedback hardware

Prepared wires, that you just have to plugin in (

no soldering required

)
*Pinball Buttons, Arcade Buttons, Arcade Joystick (including needed Microswitches and Leafcontacts).
*and more
*what eventually will be included depends, among other things, on a survey. I consider to leave out parts that could be easily bought somewhere else.